Image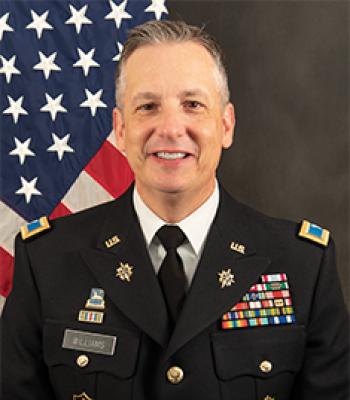 Col. Robert Williams currently serves as the project manager for Integrated Personnel and Pay System – Army (IPPS-A) at Program Executive Office Enterprise Information Systems (PEO EIS). He is responsible for developing, integrating and deploying a portfolio of programs and applications that span the Army's human capital and readiness domains.
Williams began his military career in 1993, when he enlisted in the Army as a finance specialist. He then completed Officer Candidate School and was commissioned as a military intelligence officer at Fort Benning, Georgia, in September 1996. Prior to joining IPPS-A, he served as the project manager for Afghan Personnel and Pay System, Combined Security Transition Command – Afghanistan, Operation Resolute Support.
From July 2014 to July 2017, he served as product manager for the Logistics Modernization Program (LMP) at PEO EIS. There, he managed one of the largest enterprise resource planning implementations in the U.S. Army. Prior to his time at LMP, he was assigned to the Office of the Assistant Secretary of the Army for Acquisition, Logistics and Technology as the Department of the Army system coordinator for the Warfighter Information Network – Tactical program, and at the Headquarters Department of the Army G-8, Program Analysis and Evaluation, as a program analyst for the Army Aviation portfolio.
Additional previous assignments include: platoon leader, B Company, 532nd Military Intelligence Battalion, Camp Humphreys, Korea; battalion S4, technical control and analysis element chief, and commander, B Company, 314th Military Intelligence Battalion, Lackland Air Force Base, Texas; intelligence plans officer, 1st Brigade, 91st Division, Camp Parks, California; assistant product manager, Tacticomp, Army Space Program Office, Fort Belvoir, Virginia and Baghdad, Iraq; and operational test officer, Intelligence and Electronic Warfare Test Directorate, Fort Huachuca, Arizona.
Williams is a graduate of the Military Intelligence Officer Basic and Advanced Courses, Combined Arms and Services Staff School, and Command and General Staff College. He is a member of the Army Acquisition Corps, is Level III Defense Acquisition Workforce Improvement Act certified in program management and holds a Project Management Professional certification from the Project Management Institute. Williams earned a Bachelor of Science in general studies from Columbus State University, a Master of Arts in administration with a concentration in organizational development from the University of the Incarnate Word, a Master of Science in project management from the Florida Institute of Technology, and a Master of Science in national resource strategy from the Eisenhower School, National Defense University.
His awards and decorations include the Defense Meritorious Service Medal, Meritorious Service Medal with Silver Oak Leaf Cluster, Army Commendation Medal with 3rd Oak Leaf Cluster, Army Achievement Medal with 2nd Oak Leaf Cluster, Army Good Conduct Medal, National Defense Service Medal, Afghanistan Campaign Medal, Iraq Campaign Medal, Global War on Terror Service Medal, Korea Defense Service Medal, NATO Medal, and the Army Staff Identification Badge.