Image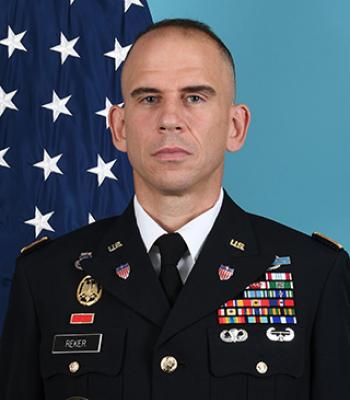 Lt. Col. William (Bill) Reker currently serves as product manager, Global Combat Support System–Army (GCSS-Army) under project manager, Army Data and Analytics Platforms (ARDAP). In this role, Reker oversees the business enterprise capabilities of the Army's tactical logistics system, including property book, supply operations, tactical maintenance, logistics management and associated tactical finance functionality.
Reker began his career when he enlisted in the U.S. Army Reserves as a petroleum supply specialist in 1994 and served as a reservist until 2000, at which time he was commissioned through the Reserve Officer Training Corps (ROTC) into the Adjutant General Corps, with a branch detail to Infantry Branch. Following training at Fort Benning, Georgia, he was assigned to the 101st Airborne Division (Air Assault) at Fort Campbell, Kentucky. There, he served as anti-tank platoon leader and then executive officer, Delta Company, 2-502nd Infantry Regiment; S-3 air officer, 2-502nd Infantry Regiment; and S-1, 2-502nd Infantry Regiment. While assigned to 2-502nd Infantry Regiment, he deployed to Kosovo as part of Operation Joint Guardian and Iraq as part of Operation Iraqi Freedom I. In 2004, he completed his branch detail and was sent to Fort Jackson, South Carolina, where he held positions as combat developer, Adjutant General School; S-3 operations officer, 369th Adjutant General Battalion; and commander, Bravo Company, 369th Adjutant General Battalion.
In 2007, Reker was selected into the Army Acquisition Corps. In his first acquisition assignment, he served as a test officer for Program Manager Future Combat Systems' Combined Test Organization at Aberdeen Proving Ground (APG), Maryland. His follow-on assignment was assistant product manager for Reconnaissance and Platform Integration for the Joint Project Manager Nuclear, Biological and Chemical Contamination Avoidance. Next, he served as a project officer for the Acquisition, Logistics and Technology Integration Office at Fort Lee, Virginia and then assistant product manager for science and technology portfolio integration at Edgewood Chemical Biological Center (ECBC). His most recent assignment was as military deputy for the C5ISR Center Command, Power and Integration Directorate at APG.
Reker holds a bachelor of arts with a double major in history and speech communication from the University of Illinois at Urbana-Champaign, a master of arts in human resources management from Webster University, and a master of business administration from the University of Delaware. He also holds a project management professional (PMP) certification from the Project Management Institute (PMI).
His military education includes the Infantry Officer Basic Course and the Adjutant General Officer Advanced Course, Intermediate Level Education (ILE), the Army Acquisition Basic Course, the Army Force Management Course, and the Army Space Cadre Basic Course. He is a member of the Army Acquisition Corps and is Level Three-certified in program management. His military awards and decorations include the Defense Meritorious Service Medal, the Meritorious Service Medal with four oak leaf clusters, the Combat Infantryman Badge, the Expert Infantryman Badge, the Air Assault Badge, the Parachutist Badge and the German Armed Forces Proficiency Badge (Gold).