Image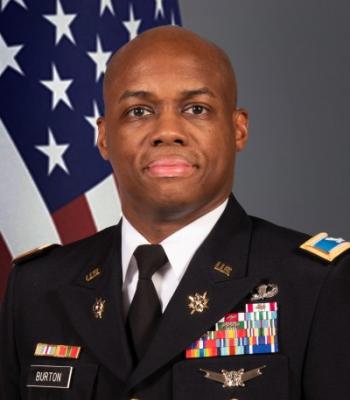 Colonel Donald L. Burton is a native of Nashville, Georgia, and was commissioned in December 1994 as a Second Lieutenant in Military Intelligence with an Air Defense Artillery branch detail from Florida Agricultural and Mechanical University.
Col. Burton's previous assignments include; PATRIOT Launcher Platoon Leader, Fire Control Platoon Leader, and Battery Executive Officer, 3rd Battalion, 43rd Air Defense Artillery Regiment, 11th ADA BDE, Fort Bliss, Texas; Assistant G2, 21st Theater Support Command (TSC), Kaiserslautern, Germany; Counter Intelligence Officer, Kosovo Force Headquarters, Pristina, Kosovo; Commander, HHC, 415th Base Support BN (BSB), Kaiserslautern, Germany; Intelligence Systems' Evaluator, Army Test and Evaluation Command (ATEC), Alexandria, Virginia; Assistant Product Manager (APM) for multiple systems, National Reconnaissance Office (NRO), Chantilly, Virginia; Executive Officer and Legislative Affairs Liaison for the Director of the Missile Defense Agency (MDA), Arlington, Virginia; Director of Acquisitions, Logistics, and Technology, 402nd Army Field Support Brigade (AFSB), Camp Arian, Kuwait; Deputy Director for the Global Combat Support System-Joint (GCSS-J), Defense Information Systems Agency (DISA), Fort Meade, Maryland; and Product Manager for the Distributed Common Ground System – Army (DCGS-A). He is a recent graduate of the Army War College in Carlisle, Pennsylvania.
Col. Burton earned a Bachelor of Science degree in Computer Information Systems from Florida Agricultural and Mechanical University. In addition, he earned a Master of Science in Computer Information Resource Management, a Master of Business Administration from Webster University, and a Master of Strategic Studies from the Army War College. Col. Burton is a member of the Acquisition Corps and is Level III certified in Program Management and Information Technology.
Col. Burton's military awards and decorations include the Defense Meritorious Service Medal (three awards), Meritorious Service Medal (three awards), Joint Service Commendation Medal, Army Commendation Medal (five awards), Joint Service Achievement Medal, Army Achievement Medal (five awards), Southwest Asia Campaign Medal, Kosovo Campaign Medal, the Global War on Terrorism (GWOT) Expeditionary Medal, the GWOT Service Medal, the NATO Medal, the Army Space Badge, and the parachutist's badge.